I was born in 1961. When I go back to my childhood, I remember the time when roles were traditionally assigned. My father announced the tariff. For all. Without discussion.
Franz Kasperski
SRF editor and cultural organizer

Open the people box
Close the people box


Franz Kasperski is an editor and, together with his wife and son, runs the Story Bakery in Zurich's old town: a small cultural center for everyone who (want to) write.
My mother, like all the women in the village, wore an apron, always had a Melitta pot of coffee ready, served and cooked meat with sauce. The fun-stopping cholesterol came later. The roles were defined. There was only one person in our family who was out of line.
Emancipated without an ideological superstructure
After a massive heart attack in his early forties, my uncle stayed home and did housework. People whispered: "a househusband." This seemed worse than his heart attack.
The word "emancipated" came later. It never occurred to anyone that the man had emancipated himself thanks to(!) a heart attack. "Hausmann" was a contradiction in terms and the man in the house in the wrong habitat.
No holy authority on the women's issue
I remember the Catholic priest who liked to put his hands under our altar boys' skirts in the summer: "Doesn't that scratch our bare legs?" and who believed that the real crown of creation were men. "Women are unclean and have to stand in the field once a month and let the impurity bleed out," our pastor liked to quote a church father.
When we went for a walk around a lake with a couple who were friends, the men always led the way and the women followed at a distance. They had fun. I asked when they would be on the field. They laughed their heads off when I said the priest had told me that. From then on I became suspicious about the responsibility of priests in women's issues.
Being a man was above all spasm, performance, bluffing and having no idea.
For the men it wasn't funny, but rather matter-of-fact. Being a man meant being strong, asserting yourself, not crying.
Sex education came too late for our puberty. We did it ourselves behind the garbage containers in the schoolyard: an older classmate, who stayed seated twice, gave tips and tricks, like today in the "Sex Education" series, handed out Patentex Oval and gave us an introductory course. We wanted to be good lovers. Being a man was above all spasm, performance, bluffing and having no idea.
The limits of the woman-driven man
Late 1970s. Of course I didn't want to be a "Pasha" like my father. I became a woman-driven man, read "Emma," women's literature by Silvia Plath, Virginia Woolf, Gabriele Wohmann and Karin Struck, and failed when I tried to enter a women's bookstore. Days later, a self-painted sign stood in front of the store: "Men must stay outside." A pity.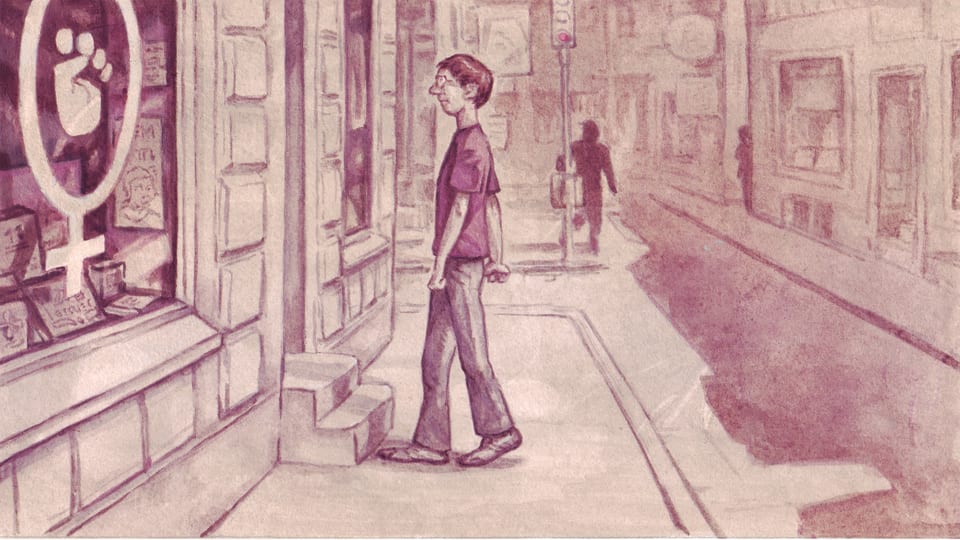 I found the classic distribution of roles unfair. Why should a woman earn less for the same work? Equality for women logically meant defining my role as a man differently than my father. And so, years later, I found myself sliding into something I had no experience with.
"Modern father"? No, pragmatic!
When our first son was born, I became a househusband. My wife earned significantly more in significantly less time than I did as a theater director at medium-sized city theaters. I was not gloriously emancipated. It just wasn't worth it.
During the day I was the only man among mothers on the playground and became a "modern father". After work, the other fathers came. They had won big victories, I had cleaned ass.
They found it "lame" – I hate that "casual" with five "ä" – that I am there "where the really important things in life happen". "Yes, if things are so important, why aren't you there?" – "I can't choose." Those were the dialogues over light cigarettes.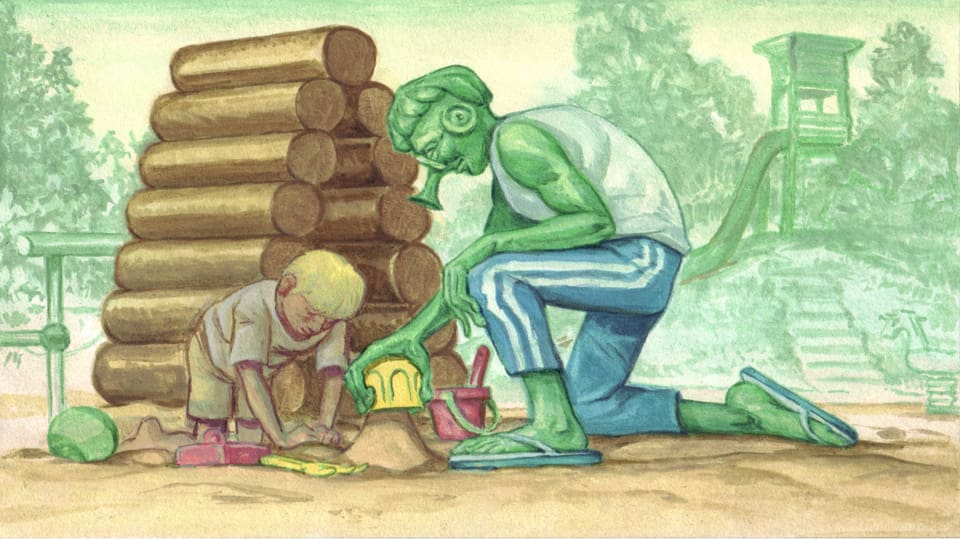 The office fathers immediately had expert discussions with the women about colic, phases and the damage "that can happen if the child sleeps in the parents' bed." "The truth is that the worm is contesting your place," I thought to myself. Status was extremely important to them. Once I was asked how I felt when my wife gave me money to go shopping.
"I have money, therefore I am"
I often said to myself: "Now you'll learn how women have been doing things for a long time." This scratched one's self-esteem, as if Descartes' rule applied anew: "I have money, therefore I am."
After two years, when I got used to the fact that we had swapped the role of breadwinner, the most emancipated women in our environment asked my wife whether this didn't affect the bed. I have to answer this question here. Discretion.
In my everyday life, gender attributions are dissolved: strength, empathy, tears, assertiveness are not assigned to any gender for me.
During this time, role patterns were broken and the image of men and expectations became more diverse. The classic ideas continued to exist, as if men had to be both: retro and modern. Same with women.
In the 2010s, mothers and fathers tried to juggle everything. It was classic and less classic between the genders. What kind of woman or man were you dealing with? That had to be negotiated more and more and was freedom and self-determination. When you were already tired, it was a burden.
Career and family: a single success story?
The requirement to be successful as a man reached the personal level: family and relationships also had to "run smoothly".
Family photos were sent as Christmas greetings: everyone beamed at cameras. Career and family – one single success story. A man told me at the time that what he was most afraid of was telling his wife that "things were shitty at work" and that he had to keep up the facade at home.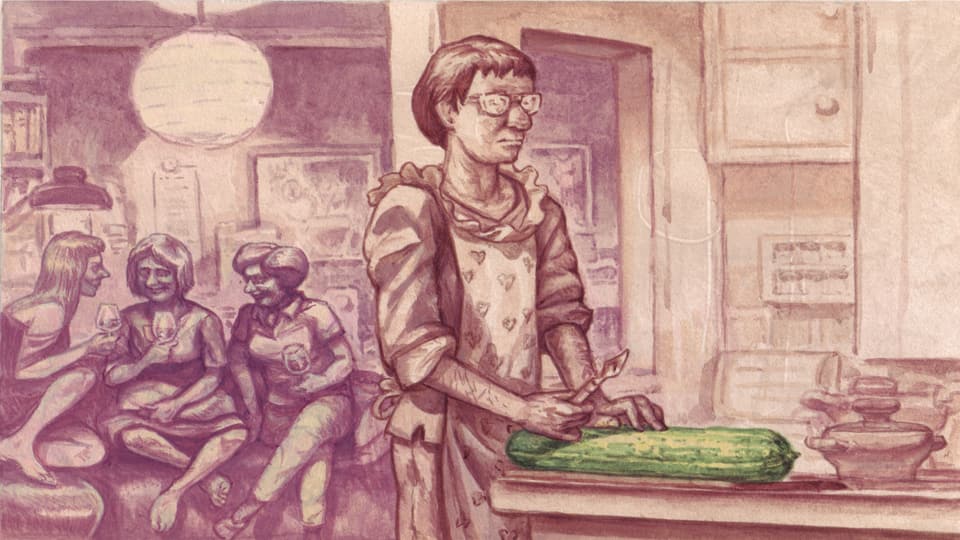 Some things seemed fishy around me. Some couples in my circle of acquaintances had a lot of dishes thrown out during the mid-forties and early fifties. It started with the men buying heavy motorcycles. The call of freedom and adventure had overtaken them again, they became hunters and knights, moved out of their marital home and soon a younger woman was sitting on the back of the motorcycle.
I always found the idea of ​​being an old fart with a woman half your age strange. I thought to myself: She'll be sitting with my eldest son in the introductory seminar on Nabokov's "Lolita" the next morning.
The memory part ends here.
When is a man a man?
When I write reflectively about 60 years of being a man, then for me being a man is not an absolute concept that occurs in the singular and remains unchanged throughout a lifetime. The question is: When did being a man mean something to me at what stage of life? It was a lot of work just to move from the classic distribution of roles to an equal relationship.
When your worries come at you meters high and head on, there's only one thing you can do: face everyday life in self-defense.
To my surprise, I now realize that I – between 30 and 50, married, with three children in training – haven't had the chance to think about being a man for at least ten years. There were more important things in everyday life. Like the question: "Who goes to parents' evening?" The one who has time.
The distribution of roles became a genderless slash. When your worries come at you meters high and head on, there's only one thing you can do: face everyday life in self-defense.
List of defects man
What also strikes me is that in my childhood and youth, men were the way they are. Today that no longer exists, "the man" as a homogeneous category. It seems to me that for 15 years "the man" has been managed as a list of deficiencies under headings such as: the "confused man", the "overwhelmed man", the "tired man", the "toxic man".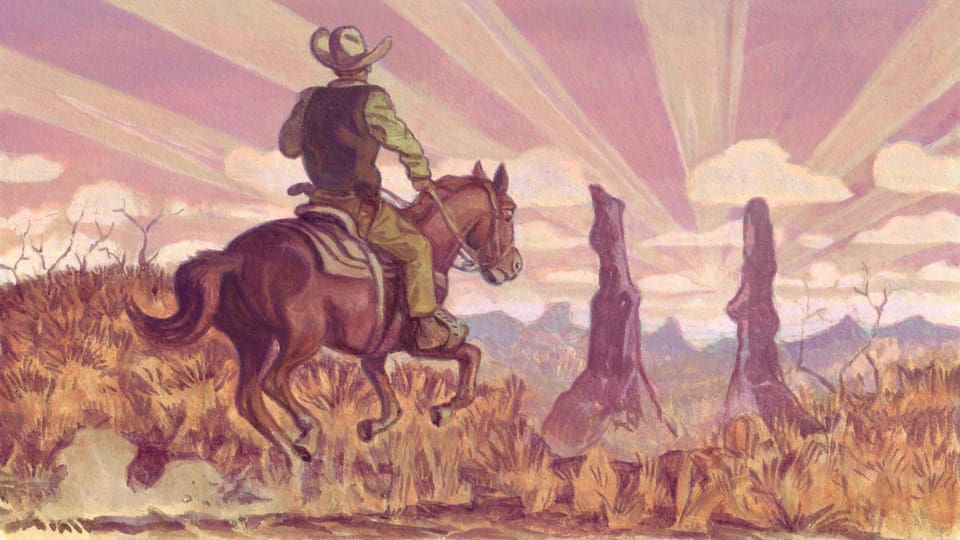 Wow! The advisory scene is rubbing its hands. I think that's nonsense. Being overwhelmed and tired these days is the most normal, healthiest reaction and not a deficit because:
As a man today, you should be determined, assertive, empathetic, relaxed, balanced, creative, communicative, financially strong, have emotional competence and be a good partner and father.
I am not one man, but many.
Again: "Wow, and can it be anything else?" I'm already tired on Fridays, of course, and the big end, the weekend, is yet to come. And since everyone has been reachable and since Corona, the children have been running through meetings while working from home, behavior has had to change at lightning speed. I'm not a man, but many.
Being a man? Being human!
Today I can say that I couldn't get through life being a man anyway. As a father and spouse, I wanted to be able to behave differently than I did in the office; that was my goal. So the question is more: What kind of man am I in what context?
And a second later I think: Are gender assignments taking me any further? In my everyday life they are dissolved: strength, empathy, tears, assertiveness are not assigned to any gender for me. They present themselves differently from person to person.
And so for years I haven't thought about being a man, but rather about being human. My humanity encompasses more than my manhood. The latter is part of my identity – but not everything. So I'm going to cook now. I'm hungry. The others probably too. I will ask.
The cultural highlights of the week in the newsletter

Open the box
Close the box


Discover inspiration, stories and treasures from the world of culture: every Sunday, straight to your inbox. Subscribe to newsletter now.