Contents
Yves Saint Laurent, who died in 2008, was a designer of opposites. Glamorous cuts alternated with formally reduced ones. An exhibition in Paris shows how Pop Art inspired the fashion designer.
It is an icon of the French fashion designer Yves Saint Laurent: The short dress made of wool jersey looks like a painting by the Dutch painter Piet Mondrian. A black grid on a white background, some fields are red, blue and yellow. In the exhibition, the mannequin with the dress from 1965 looks like a sculpture.
"Yves Saint Laurent met Mondrian through a book that his mother gave him," says Elsa Janssen, director and curator of the Musée Yves Saint Laurent in Paris. Mondrian was hardly known in France at the time. "That changed when Saint Laurent's clothes appeared on the cover of Vogue." Yves Saint Laurent made the artist's work lively and wearable.
Geometry for the body
For him, Mondrian becomes a kind of leitmotif in various collections. But he is also interested in other art: "Even as a young fashion designer, Yves Saint Laurent was fascinated by art history, especially modernism and constructivism," says Elsa Janssen. He was also fascinated by the Bauhaus, where geometric shapes were fundamental to the construction of artistic compositions.
In the models that Elsa Janssen chose for her exhibition, you can experience the legendary precision with which Yves Saint Laurent precisely assembled two-dimensional geometric shapes for a dress that is designed to fit a three-dimensional female body.
Pop art meets fashion
In his collections from 1965 and 1966, color determines the design. They are usually short, straight or trapezoidal cut dresses for the modern, elegant woman. Black dominates as the basis here. Individual surfaces shine in rich purple, then only the button placket and collar are bright yellow. The reference to pop art is obvious.
His black and white collections are even more strict. Here he breaks down the silhouette into geometric surfaces: A long black evening dress is given volume in the skirt by inserted white triangles. Or on a white coat, the black seams create an incredible three-dimensionality.
Yves Saint Laurent's sketches are on display in this group of works. "His creative process is particularly clear to see," says curator Elsa Janssen. Yves Saint Laurent begins each collection with sketches, with black pen on white paper. "Sometimes it only took him a minute to do a sketch like that," says Janssen. He made up to 200 pieces a day in his house in Morocco. Video footage of this can be seen in Paris.
The power of the jumpsuit
Elsa Janssen makes it clear: Yves Saint Laurent is an artist himself. Like the artists of constructivism or pop art, he dealt with the formal and aesthetic questions of his time. Now and again with a socio-political dimension.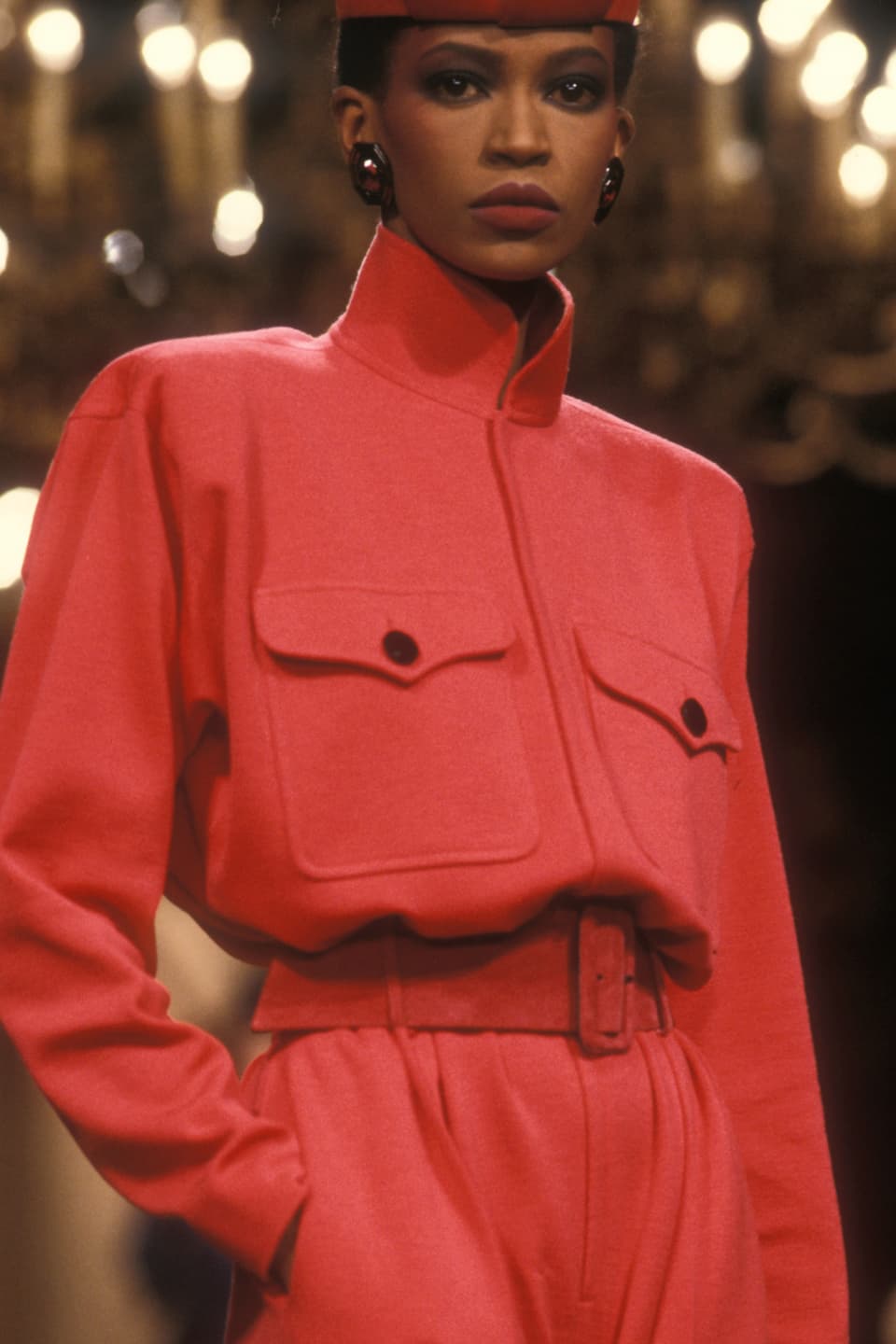 This is proven in the exhibition by his monochrome jumpsuits from 1975: "He assigned the men's wardrobe to the women's wardrobe," says Elsa Janssen. "He transferred power from men to women." An empowerment of women. The exhibition in Paris makes it clear: as a designer, Yves Saint Laurent combined art with politics.
Exhibition notice

Open the box
Close the box


The exhibition "Yves Saint Laurent – Shapes & Forms" can be experienced at the Musée Yves Saint Laurent until January 14, 2024. The catalog for the exhibition is called "Yves Saint Laurent. Form and Fashion" and will be published in German at the beginning of October 2023 by Schirmer / Mosel.