Contents
Nathalie Basteyns has suffered from multiple sclerosis for ten years. With a friend and her carer, she sets off to the pilgrimage site of Lourdes. She doesn't believe in miracles – but she thinks it's worth a try.
Belgian director Nathalie Basteyns has been in a wheelchair for eight years and has had enough of it. She wants to be able to walk again and dreams of a miracle: "I don't believe in God, but sometimes faith is the only hope."
And so Basteyns sets off for Lourdes together with the photographer Lieve Blancquaert and her carer Gustave Dikumueni.
She remains skeptical
The camera is always there, Basteyns is both director and protagonist. She is a grateful protagonist because she remains skeptical throughout the film. Why should she, the MS patient, be able to walk again at the end of this pilgrimage, she asks herself. On the other hand, miracles do happen in Lourdes. The Roman Catholic Church has officially recognized 70 of them.
Miracle number 70 is called Bernadette Moriau. The Belgian trio visits them on their trip south. The woman, who could hardly walk for decades and was dependent on morphine, impressively describes how one day, after a visit to Lourdes, she put her walking aids aside and was able to take a long walk in the forest.
Prix ​​Europa for film

Open the box
Close the box


The film "Mirakel No. 71" ("Miracle Number 71") by the Belgian director Nathalie Basteyns was originally a mini-series of 3 x 45 minutes. The film recently won a Prix Europa, which honors the best European television, radio and new media productions every October.
It doesn't matter if she's not a believer, Moriau tells Basteyns. But she should ask Mary to intercede for her.
Basteyns will do the same. But first she does everything she can never do otherwise. She skis with the help of a special seat on skis, she goes flying by hanging from a harness in a wind tunnel, she takes hallucinogenic mushrooms, visits a Buddhist temple, a neurologist, a pain management specialist and learns to meditate.
The place for the hopeless
When the trio finally arrives in Lourdes, Basteyns first notices the many wheelchairs and tells them what a beach vacation feels like. Her partner and the children run into the sea, play ball and have a good time, "and I sit there in my wheelchair for three, four, five hours." It's humiliating that you always have to be pushed.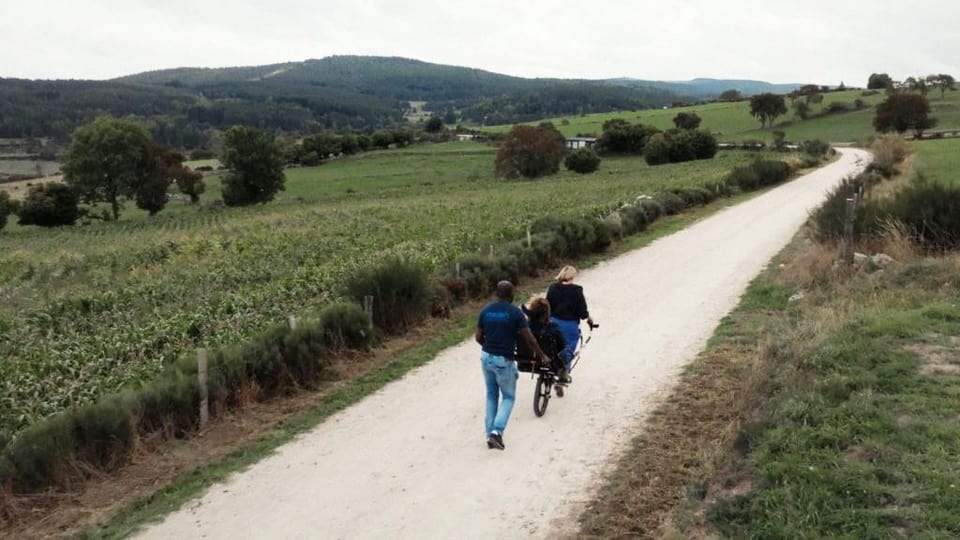 "If there weren't so many hopeless people, Lourdes wouldn't exist," says Basteyns in the film. It is necessary that such places exist, but she definitely wants to go to the sea. Because her secret plan from the beginning would have been: If she were actually able to walk again, she would call her children, hang up and jump into the sea. But she won't be miracle number 71.
At least your eyes are open
The trip to Lourdes didn't change her life, says Basteyns: "I still can't walk." But he would still have opened her eyes. She can now accept that she is in a wheelchair and that some days are better than others. That sounds completely banal, but it is important to accept your fate and make the best of it.
"Look at your life from the outside for a few minutes a day, question it, analyze it." And, she adds, she has started meditating. Just like she learned during filming.
Breathe in, breathe out, switch off your thoughts.
The cultural highlights of the week in the newsletter

Open the box
Close the box


Discover inspiration, stories and treasures from the world of culture: every Sunday, straight to your inbox. Subscribe to newsletter now.